Salon De Provence
Strategically situated between the Alpilles, the Camargue and the Aix-Marseille route,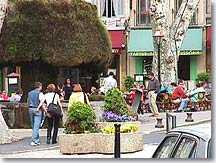 Salon de Provence is surrounded by magnificent countryside where the olive tree is "king"!
Salon is one of the oldest villages in Provence and it was the birthplace of the famous clairvoyant scholar Nostradamus. His house is in the old district and it is now a museum which details his life and unique personality.
There is also a long story behind the water flowing from the fountains of Salon... in the 16th century a certain Adam De Craponne (not Al Caponne!) invented and built the irrigation system later used throughout the district... thanks to Mr De Craponne and his ingenious system, the countryside soon prospered and today Salon de Provence is one of the most charming in the area.
Visitors to Salon will be enchanted by the leafy plane trees and picturesque streets in the village centre... so typical of Provence!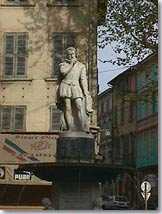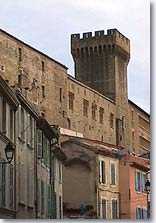 Historic sites to visit :
18th century porte de l'horloge. 17th century town hall.
18th century Moussue fountain.
13th century St Michel church.
18th century Collégiale St Laurent.
The house of Nostradamus. Grévin de Provence museum.
L'école des bergers (domaine du Merle)

And, for something different... the Coca-Cola Museum (museum of publicity merchandise).
Accommodation :
15 hotels. 1 Camp site. Holiday lets. Numerous restaurants.
Leisure activities :
Hiking, mountain bike hire, horse-riding.
Tennis, swimming pool, 18-hole golf course.
Advice for aeroplane enthusiasts: every Tuesday between midday and 2pm
the French airforce hold training sessions...you can admire
superb acrobatics